Unifying Identity With Under Armour Uniforms
Budgeting For A School Identity
Whether we realize it or not, schools and colleges all have a set budget for different things, e.g. pots for example. There is one pot set aside from salaries, one post set aside for stationary items, one pot set aside for sundries etc. There's also a pot for uniforms, and in terms of identifying the school or college which pupils belong to, popular items such as Under Armour uniforms often have a printed emblem/message on them, which gives the general public a clue.
Of course, there's a flip side to this, because you may be trying to attract prospective college students towards your particular establishment when they finish their high school education – everyone is in competition, and budgets are tighter than they have ever been before.
For this reason, finding the best sublimation printing company for your school or college printing needs is imperative – it's no good going for a high priced company, because all that is going to do is break the bank, and as we have mentioned, money is everything.
Your best value, after a little research, will be with a superior custom branded apparel company such as Hotline Apparel.
Printing Custom Branded Apparel
Dye sublimation printing services are a two a penny, but getting the right one for your needs requires careful shopping. The usual case is that you have a batch of shirts/custom varsity jackets etc, and you then sell these onto parents/students to reap back some of your profits. For this reason, when shopping for, say, sorority apparel, you need to control your costs so you can then sell these to students and make money to line that pot we were talking about earlier.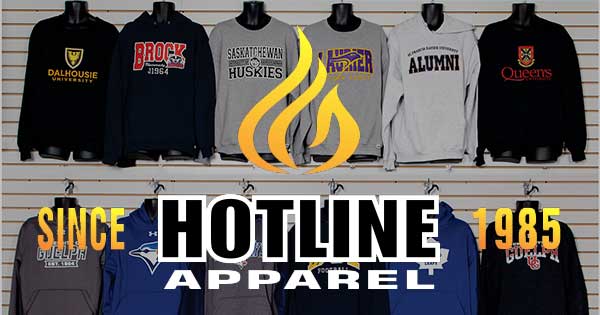 The same thing really goes for school sporting teams, because creating a united front on the sporting field requires a common identity – in the form of a strip. Be it soccer, badminton, tennis, rugby, American football, cricket, whatever the sport, having a team emblem, e.g. the school or college, means that you are representing the establishment, and again, finding the right company to do the custom branded apparel printing is imperative here.
Brand Value in Under Armour Uniforms
So, from all of this you can see that having custom graphics printed onto shirts, Under Armour team uniforms, bags, shorts, hats, basically anything, all of this serves a purpose, to give identity to the students who are wearing them, tying them back to the school or college. Of course, you could argue that this is also a safety thing, because the general public can identify students to a particular school/college if they are in trouble.
The key here is to pull all of this together and reap the benefits, whilst also lining the budget pot for your school or college uniforms. Finding the best printing services is therefore a priority which is high up on the importance list, and as a new term begins, that also means a new intake of students looms on the horizon. Trusting in brand quality, having the right amount of Under Armour uniforms in stock for these pupils also means that a targeted drive towards printing needs to take place ahead of time.